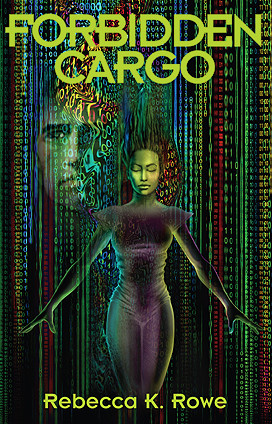 Forbidden Cargo


Finalist for The Colorado Book Awards...
It's 2110 and Creid Xerkler, the creator of the Molecular Advantage Machine – a virtual system that facilitates instantaneous access to all of humanity's knowledge and experience – is unwillingly entangled in a government Council plot to prove the existence of an illegally engineered race called the Imagofas.
Unfortunately Xerkler knows more than he should and fears what the Council might discover.
The Imagofas are revered by many as the next step in human evolution – a nano-DNA hybrid: part human, part machine – but to the Council they are a dangerous aberration and a threat to the very existence of humankind.
In their quest to prove this crime against humanity, the Council plans on abducting specimens from the Order sanctioned research facility on Mars.
When the kidnapping takes an unexpected turn and the Imagofas are forced to become fugitives, the Council vows to destroy them — while others plan to capitalize on their existence.
The Imagofas, in a determined bid to return to Mars, must draw upon their still developing and unique skills to survive the dangers of Earth.
Along the way, they are helped by three unexpected and unlikely heroes: the Cadet, a hard core gamer; Ochbo, a cleanlife pervert; and Prometheus, an enlightenment seeking MAMintelligence, who, while on his own secret quest, ultimately holds the answers to everyone's survival.
About Rebecca K. Rowe
Rebecca K. Rowe is a freelance writer, published author and member of the National Space Society and The Mars Society. She has M.A.'s in Journalism and International Relations. Her short work / poetry has been published in Polyphony, Ascent Magazine, and Sol Magazine. Rebecca is a graduate of the Clarion Science Fiction & Fantasy Writers' Workshop. 
---
Praise:
"Forbidden Cargo is a complex and imaginative first novel from Rebecca K. Rowe. It's a cyberpunkish thriller full of narrow escapes, political machinations, virtual combat, and deeply memorable characters, all flavored with a touch of Eastern philosophy and a nod toward contemporary debates in biotechnology. Rowe or EDGE need to submit Forbidden Cargo for some sci-fi first-novel awards, because this book is definitely a contender." - Dru Pagliassotti, The Harrow
"This gem of a book has it all. It's got virtual reality, technology and imagination. It also has an interesting story, with which the author does a fine job. This is not just a really good first novel, it's a really good novel." - Book Review Forum.
"Forbidden Cargo hits the future running at full speed and never glances back. Though author Rebecca Rowe's literary persona is indisputably 21st century, her science fiction DNA is imbedded with classic enhancements - a sprinkle of Robert Heinlein stem cells, coils of Neuromancer and The Matrix, and a breathless plot that would do justice to the breakneck inventiveness of A. E. Van Vogt." - Edward Bryant, Author and literary critic.
"Rebecca Rowe's Forbidden Cargo is a gripping and moving novel that makes you think about where humanity will be a century from now. Rowe draws you into a virtual world so vividly rendered that it is both entirely believable and utterly fantastic." - Dr. David Grinspoon, Curator of Astrobiology, Denver Museum of Nature & Science, author of Lonely Planets.
"I just finished reading the preview for Forbidden Cargo. Of course it ended, just as I was getting into the story. So now I'm hooked." - Chandra Rooney.
"Finished Cargo about a week ago and wanted to tell you how impressed I am with your novel. Stylistically it reminded me ofIdoru... Congratulations! A cracking good read." - Dan Maslowski.